The Best Value Around for Tooth Replacements
As your trusted Palmdale dentist, it is our job to tell you when a tooth cannot be saved. Dental implants are your best option for replacing missing teeth. Our dental implant surgeons are masters of their craft with experience in successfully placing thousands of tooth implants already. Our team utilizes the latest in CBCT technology for more accurate and safer planning of our surgeries. We provide the best value in Palmdale, CA by combining affordable prices with high-quality results from excellent care and expertise. Whether you're facing an extraction or have lost teeth because of an unexpected accident or decay, at AV Sierra Dental Center, we offer implant dentistry services— a permanent, restorative solution that will give you back your beautiful, natural-looking smile.
Schedule a free consultation at our Palmdale dental office to find out more about our Hybridge Dental Implant Solutions!
(661.202.3542)
Hybridge Dental Implants – Jennifer's Story
What Is a Tooth Implant?
Implant dentistry consists of a small, screw-shaped, titanium post that replaces the root of a missing tooth. It is covered by a porcelain crown that looks and feels just like your old tooth. It requires a minor surgical procedure in which the post is inserted into the jawbone where the missing tooth once was and is left to heal for a set period of time. While it heals, the bone fuses to the metal implant, and then the tooth-like crown is attached.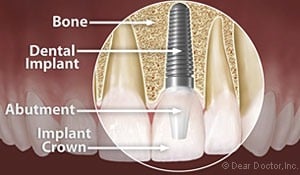 The Benefits of Implant Dentistry
Treatments with our dental implant specialists are quickly gaining popularity. They have up to a 98% tooth-replacement success rate and correct even the most severe problems associated with missing teeth. They are a safe and effective method for replacing missing teeth with new, natural-looking, permanent teeth, and they help preserve the tooth-supporting bone that naturally deteriorates when a tooth is lost, thereby sustaining the integrity of your facial structure.
Affordable Dental Implants in Palmdale, CA
For many, tooth implants offer a much-needed reprieve from ill-fitting, uncomfortable dentures or retainers with false teeth. We have yet to have a patient regret having an implant placed. Every one of our patients have been extremely pleased with the decision to get an implant with our highly-skilled team.
Our dental implant surgeons, Dr. Oh and Dr. Sastiel are extensively trained and together have placed thousands of implants. Dr. Sastiel handles the majority of our surgeries, including cases with additional complexities, while Dr. Oh manages all of our restorations. As a team, they have the ability to tackle almost any implant case.
Our dental implants procedures usually involve very minor surgery to place the implants. Our standard tooth implant surgery will take around 30 minutes or less, while more complex cases may take longer. Our implant treatment plans can take anywhere from 3-6 months to complete. This allows for your jaw and gums to properly heal before we place the abutment and crown. Just like your natural teeth, with proper maintenance and cleaning, teeth implants can last many years. As part of their job as your dental implant specialists, Dr. Oh and Dr. Sastiel will work with you to ensure the longevity of your dental work. They will guide you through the maintenance and care of your implants at each stage, both immediately after and long after the procedure.
Dental Implant Options at AV Sierra Dental Center
At AV Sierra Dental Center, we offer three primary tooth-replacement options. Depending on the number of missing teeth, certain implant options work better than others:
Single-tooth replacements
This option has the highest success rate, and because they will never decay or need root canal treatments, they are the best long-term investment for replacing a single tooth.
Multi-tooth replacements
These are similar to bridges and are commonly used when three or more teeth in a row are missing. A bridge must connect to a natural tooth, which often becomes weak and starts to decay. With tooth implants, the surrounding teeth are not affected.
This option allows our dental implant surgeons to replace entire jawlines along the top or bottom (or both) rows. These dentures lock into place so they will not shift around in the mouth or fall out during jaw movement.
FAQ
Are dental implants the best tooth-replacement option?
Tooth implants are the best replacement option for patients who want a permanent, natural-looking solution. They are highly durable and deter bone loss, protecting the integrity of your facial aesthetics.
Which are better-- implants or bridges?
Our tooth implants are way better than placing a bridge, which is the only other permanent, non-removable option. Bridges involve shaving down the surrounding teeth to place the bridge, while most implants only involve replacing the missing tooth. Dental implants also involve a lot less effort to maintain than bridges.
How much do dental implants cost?
The price varies widely according to the size, location, and condition of the remaining jawbone. We offer affordable dental implant options for many of our patients and some dental insurances will cover part or all of the procedure. Contact AV Sierra Dental Center today to schedule a consultation and find out more about pricing for your unique dental situation.
Does the procedure hurt?
Most of our patients comment, "that wasn't as bad as I thought" after their procedure. The majority of our procedures with our highly-skilled oral surgeons involve little to no discomfort.
Are dental implants permanent?
Yes, they are a permanent solution for missing teeth.
How long do dental implants last?
Most tooth implants last at least 10 years. If they are well placed, restored, and maintained your dental implants could even last a lifetime. To prolong longevity of your implants, our dental implant specialists recommend exercising great oral hygiene habits and removing horizontal forces on implants (wear a night guard).
How do dental implants work?
Dental implants are placed into the jawbone, where they fuse with the bone over time. This process is called osseointegration. Once the implant has fused with the bone, a small connector post, called an abutment, is attached to the implant. This post sticks out above the gum line and is used to support the replacement tooth or teeth.
Are dental implants painful?
The procedure for placing dental implants is typically done under local anesthesia and is not painful. Some patients may experience mild discomfort or swelling after the procedure, but this can usually be managed with over-the-counter pain medication.
How long does the dental implant procedure take?
The length of the dental implant procedure can vary depending on the number of implants being placed and the individual patient's case. Generally, the procedure for placing a single dental implant can take anywhere from 30 minutes to two hours.
How long does it take for a dental implant to heal after they are placed?
The healing time for dental implants can vary depending on a number of factors, such as the location of the implant and the individual patient's healing process. Generally, the healing process for dental implants can take anywhere from 3 to 6 months. During this time, the implant will fuse with the surrounding bone, a process known as osseointegration. After the implant has fully integrated with the bone, a small connector post, called an abutment, will be attached to the implant. The replacement tooth or teeth will then be placed on top of the abutment.
Are dental implants covered by insurance?
Dental insurance coverage for implants can vary depending on the individual plan. Some insurance plans may cover a portion of the cost of the implant, while others may not cover them at all. It's best to check with your insurance provider to understand your specific coverage.
What are the risks and complications associated with dental implants?
As with any surgical procedure, there are some risks and potential complications associated with dental implants. These can include infection, nerve damage, sinus issues, and implant failure.
How should I care for my dental implants?
It's important to maintain good oral hygiene and to visit your dentist regularly to ensure the long-term success of your dental implants. This includes brushing and flossing your teeth properly, as well as avoiding habits that can damage your teeth and gums.
Ready to Replace Your Missing Teeth?
The best dental implant surgeons in Palmdale, CA are at AV Sierra Dental Center. With affordable prices and years of experience after thousands of procedures, our dental practice can provide you with the best value for your implant procedure. To learn whether implants are right for you, call our office in Palmdale (661.202.3542) or contact us online today to schedule your consultation with our dental implant specialists.