A smile you are not proud of can have many deleterious impacts on your life. AV Sierra Dental Center's cosmetic dentists, Dr. Oh and Dr. Bay, believe proper cosmetic dentistry involves not only improving the aesthetic nature of a patient's smile but also ensuring optimal dental health for each and every patient.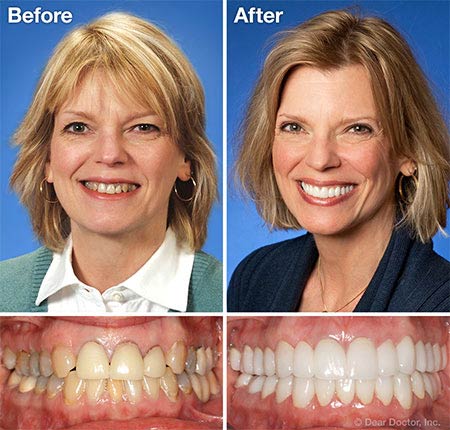 What Is Cosmetic Dentistry?
Cosmetic dentistry focuses on the appearance of your mouth, teeth, and smile. At AV Sierra Dental Center, we specialize in crowns, gum lifts, and tooth-colored fillings, as well as many other services that can improve your smile.
Our cosmetic dentistry services include:
Our Commitment to Our Dental Patients
In order to give our patients the treatment they need and deserve, we always take the time to learn about everyone's individual dental history, healthcare goals, and lifestyle. We then create a dental health plan and aesthetic strategy that works for you!
FAQ
What are the symptoms and issues your cosmetic dentistry services can help resolve?
There are a number of issues cosmetic dentistry can help and resolve. For example, cosmetic dentistry can help with discoloration, cracks, chips, a missing tooth, missing teeth, teeth whitening, and improving the overall appearance of smiles.
How much will veneers cost me?
There is a range of costs related to veneers depending on how many you need, where they will be placed, and the size. At AV Sierra Dental Center, we partner with you to learn your goals, and then talk to you about the different solutions available depending on your budget.
How much do dental implants cost?
The cost of dental implants varies based on the condition of the tissue and bone around the area where the implant will be placed. Like all of our services, AV Sierra Dental Center works with you to learn your goals and then discusses the different solutions that are available for varying budget options. Financing options are available. Set up a time to discuss your options with Dr. Oh or Dr. Bay today!
Want to know what AV Sierra Dental Center's cosmetic dentistry services can do for your smile? Call 661.202.3542 to set up an appointment! We look forward to giving you the smile you want – and deserve!